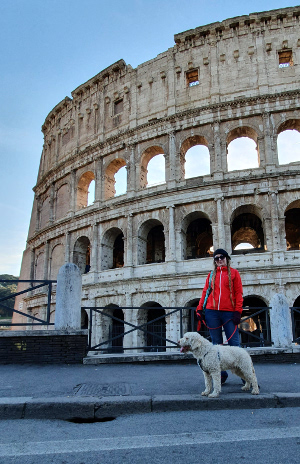 Pedro (ROI13/47675)
Basic information
Date of birth: 07.01.2013
Breeder: Anna Bellisario, Italy
Height: 48 cm
Weight: 17 kg
Charlie's story
How did Charlie end up with us? For a long time I had been following the growing truffle activities in Finland, thinking that as a lagotto enthusiast I had to get a truffle dog some day. After all, one should understand the breed and understanding truffle hunting would help with that. In 2016 I planted a truffle oak to our cottage plot and later also some common hazels with truffle.
On January 2020 I found a 7-year-old truffle-trained lagotto male for sale in Middle Italy. It took some time to get the vendor convinced that I was a serious buyer - luckily there were some Finns living in the neighboring village so with a little help from them and their friend, we got the ball rolling: rabies vaccinations, pet passport and treatment for echinococcus worms. In February we went to collect Charlie, first a flight to Rome, then a train to Sulmona and the same way back with the dog. Charlie was an amazing hotel guest, noting that he hadn't ever lived indoors. Before returning to Finland, we went sightseeing in Rome with Charlie. Within a couple of hours Charlie got comfortable with the transport box, and the flight went well.
Charlie got very quickly adapted living in an apartment. Cora was a good help showing how everything was done. It took Charlie two days to be totally housebroken, actually it took only two repetition after I noticed that Charlie really doesn't like to get a bath: when caught peeing inside, I carried him to the bathroom and left him there for a short while. That did the trick, he understood that such behavior result such consequences.
Character
Charlie is active when outdoors, quite calm when at home. He doesn't guard or alert, not even when Cora was encouraging such behavior with her barking. Charlie only barks when he is very excited about something, like a car ride. There's not much dominance towards humans in Charlie's behavior, yet he seems to remember bad things done to him for some time. Towards unfamiliar men Charlie is reserved, but children he loves very much. Compared to other lagotti that I have had, Charlie is not particularly keen on food. He does not play with toys either, although it might be that toys have not been part of his life previously. He might chase a ball but not take it. A sheep-fur toy got him interested, so the playfulness is there, if the toy is right.
My previous lagotti have been more "diesel engine" type, enduring type, Charlie is more "gasoline", releasing a great amount of energy at once. He is more like a sprinter than long-distance runner, even though there has not been a time when Charlie would have gotten tired after a long walk.
Charlie is not afraid of strange surfaces. The previous owner told Charlie was not afraid of the gun shots, had he been several times in the woods when guns have been used. My own observations backed this claim: random shots or bangs have at most interested him, not got him alerted. However, in the first new year (2021) in Helsinki Charlie got afraid of a firework that exploded only some twenty meters away from him. He got upset and wanted inside. Luckily inside Charlie felt safe again and was calm. It still seems he needs to be desensitized to hearing shots.
When Charlie came to Finland at the age of seven, he was alreayd too old to participate in mental test, where the dog must be under seven years old. So called MH, dog's mental description testing, would be available since it has no maximum age restrictions, but learning from experience with Cora, taking a dog that has only been some months with the new owner into a character testing, is not a good idea since the bond between the dog and the owner is not fully matured and is essential for the dog to feel safe in any situation. With Charlie, there's also the question about can he be trusted off-leash, as in MH there are parts in which the dog has the opportunity to flee as long as he likes, yet he'll be disqualified if spending too much time off the course.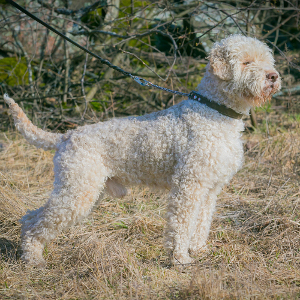 Working abilities
Charlie is a trained truffle dog and he has found truffles from Italy and Finland, so from this part he fulfills the minimum requirements for this working breed what comes to physical and mental abilities. It is worth pointing out that in Italy the truffles he had worked with in Italy smell different than the ones that grow wild in Finland, so some re-training was required for him to understand that here we value the sort of truffles that are not valued in Italy.
I am no subject expert but I would still claim that Charlie probably doesn't shine if compared to the elite dogs of truffle hunting. After all, his previous owner sold him because he was not a good match working alongside the other dogs he had. Charlie also had taken part to some village competition in truffle hunting, only to run away from the course distracted by another dog. Such problems I did not witness when Charlie was seeking truffles in Finland and Cora was with us, but I can confirm that unfamiliar dogs do get him very excited. Still I would say that hares are more of a distraction when seeking truffles, I honestly cannot tell when he is after game and when truffles. Pheasant trails also seem to interest Charlie, even get him little shaky. Maybe previous owner's words of advice give it explanation to it. He said: "Charlie does not like hens".
Charlie has tried some agility obstacles - the tunnel was a lot of fun, and he hopped the fences after discovering they were supposed to be completed by going over them, not under. The smells in the course were very attractive, it was almost impossible to get Charlie's nose up from the ground. First time he was a little hesitant with the contact obstacles, but the second time Charlie was confident enough to go through the dog walk and almost over the A-frame - he almost got to the top but then turned around. When passing the agility course, Charlie is eager to go there, so the training must have been enjoyable. Unfortunately he is quite old, so there will not be a career in this sports for him, but maybe we'll continue giving him lessons just to give him something to do off-season, when there's no truffles to be found.
Health
Charlie has been healthy. He hasn't have any allergies. He is widely health-examined in Finland, making his results comparable with the Finnish lagotti, as here the scale that is used is very strict.
Since Charlie's other hip is worse than B, in Finland he can only be used in breeding for bitches whose BLUP-index is high enough so that the mean of the parents' index is over 101. At the moment Charlie's index is 100, the breed average in Finland, but it can change as more information comes as his puppies will eventually have their hips examined and their results will affect Charlie's index.
Pedigree
Charlie is from a bit unusual bloodlines, at least from Finnish perspective. We have some dogs here that have either Italian Working Champion Iork, or Italian Champion Pali' or Italian Working and Show Champion Taro del Monte della Dea in their pedigrees. Even one that has Italian Working Champion Silu and Vikinsun -combination. But otherwise Charlie is surprisingly free from other major Italian "matadors" that are usually hard to avoid.
York
(RSR 10/88631)
Iork
(RSR 03/126556)
Taro del Monte della Dea
(RSR 99/171480)
Dante (RC96L4423)
Laika (RC93L1245)
Tea
(RSR 00/66849)
-
-
Neve
(RSR 07/21986)
Red
(RSR 01/154535)
-
-
Dolly
(RSR 03/129356)
Silu' (ROI 01/112736)
Vikinsun (RC95L3997)
Rea di Casa cleo
(RSR 07/950)
Pali'
(ROI 01/69066)
Dick
(LA 91/L0705)
-
-
Kira
(RC94L3507)
-
-
Alice
(RSR 01/5482)
Tom
(LA 90/L0049)
Dik (LA 90/L0049)
Biba (RC96L4143)
Pila
(RC95L4047)
Alex (RC93L2672)
Mera (RC93L2807)
Charlie has 3 litters in Finland, total of 13 puppies:
Appearance
From the lagotti that I have had, Charlie is by appearance the most accurate representation of the breed standard. Etna, Viggo and Cora were longer bodied, when shorter body with longer legs is better appreciated. Hind movement are quite often narrow with lagotti, but not with Charlie - he has such muscles in the back legs, that narrowness is out of the question.
To our disappointment, year 2020 wasn't great for dog show's or even match shows or dog training so that Charlie would have gotten experience in the ring. Some shows were cancelled, some moved to the later date. We still managed to get two reviews for him. He was handled by Anna, our go-to handler. From 2021 on Charlie is allowed to compete in the veteran class.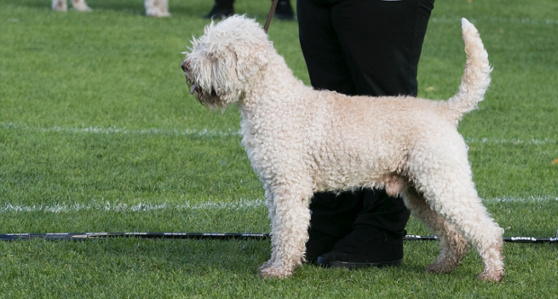 Charlie's Dog Show reviews
12.9.2020, Porvoo, judge Elina Haapaniemi (FIN)
Open Class Excellent
(free translation from the Finnish review:) "8 years. Masculine male. Good type. Suitable scull. A little long and light muzzle. Worn bite. Eyes and pigmentation that match the color. A little large ears. Suitable bone. Good body. Quite strong angulation in the back. Moves when settles with enough steps smoothly from the side. Good coat. " (attitude to the judge: ok to handle)
13.9.2020, Helsinki, judge Marko Lepasaar (EST)
Open Class Very Good
"Medium size. Excellent bones. Correct bite. Excellent topline. Excellent angulation. Should have more stable temperament. Correct coat." (attitude to the judge: avoids handling)
21.8.2021, Tuusula, judge Kirsi Nieminen (FIN)
Veteran Class Excellent, 4:th in class
(free translation from the Finnish review:) "8,5 years dog in excellent condition. Stop and brow ridge should be more distinct. Excellent neck. Compact and full body. Excellent strong bones in legs. Good angulation and excellent low heels. Excellent coat condition. Moves with good length and parallel. Is shown well. "
10.9.2021, Luige, Estonia, tuomari Tatjana Urek
Open Class Very Good
"8 y, correct shape, typical head, correct bite, excellent ?, good enough of neck, topline should be straighter, higher tailset &carriage in movement, good length of body, correct angulation in front, ? behind, good coat quality, ?."
12.9.2021, Luige, Estonia, tuomari Roxana Liliana Opris
Veran Class Excellent 2, Best Male 3, VET CERT
"Ex. type, mascul. head, broad skull, sharp muzzle, g. neck, deep chest, ? prefer more powerful & len ? ?, ? topline, ex. ribcage, great temper."